To experience the world is to learn and those who know this will always spare some time to travel. One such places you can't afford not to visit is Kallbadhuset Varberg. This place has a name as being exciting and soothing to those who want somenting new. At this destination, guests can never have enough of a cold bath, hot sauna, and a high standard coffee. 
Situated in the  sea area of Kattegatt since 1903, Kallbadhuset Varberg has received curious, fun loving guests from all over. Going by the number of visits, it lives up its the billing as a top holiday place in Sweden. Kallbadhuset Varberg is a sure gem in the coast of Sweden giving guests energising moments.
Exciting things to expect as a guest at Kallbadhuset Varberg
Setting out on a tour of adventure and a sheer need to feel good comes with a need for a reassurance that the destination will enthral. Knowing too well that there can never be a single definition of what will tickle our senses, you can get a chance to have an idea of what awaits you at Kallbadhuset Varberg. 
cold and hot baths
Kallbadhuset Varberg has an acclaimed tradition of cold and hot baths  which dates way back. In the 1820s a construction of floating basin for cold sea bathing took place at the harbor. With time, what had started small has blossomed into a deep tradition that visitors would travel from far and wide to experience. To say the least Kallbadhuset today has evolved to be the number one spa and wellness center in Varberg.
cold bath ritual
For a long time, it has stood out for offering the Swedes and any other guests who wish to try out something new with a cold bath ritual giving them healing abilities. It is among the very first existing cold bath houses in Sweden which came fourth as the first healing houses. 
Other than the ritual of cold baths in Sweden, saunas also come out as mirroring a very similar culture where you get to relax and sweat. The bastu, being the common name they go by in Sweden, can be really pleasant and cosy. It's a way to relax after your gym session or your spa treatment break. 
Well, the cold bath house will offer you a warm and pleasant sauna as you look over to Kattegat. When you are not swimming in the sea, you could enjoy the architecture while sipping your coffee at the café.
Connect with the history of Kallbadhuset Varberg
A good traveller not only visits and enjoys what a destination has to offer but also carries home valuable historical facts about it. In fact, the history of Kallbadhuset Varberg can be a good one for a travelogue. 
One gets amazed to know that as early as the 1820s, the tradition of hot and cold baths roared in Varberg. This place became a very popular health resort. 
floating basins at Kallbadhuset Varberg
In the 1820s floating basins were brought into the picture to aid cold sea bathing in the harbour. Commonly called the Badflotten, they had some kind of sump of wooden slats where bathers could step down. However, this changed in the 1850s when fixed pools were introduced.
bathing floating basins to built piles
Today when you visit Kallbadhuset Varberg, you'll see  fixed cold bath houses. The houses can easily give a false impression that things have just been like this from the very beginning. Not at all. Over time and caused by increasing technical skills, the bathing floating improved to fixed cold bathhouses. 
1864, further welcomed a new bathing company that saw fit to build the city a new hot and cold bathhouse. This is how it evolved with the first cold bath house being established in Varberg in 1866 covered in a Moorish style with cupolas on the corner and middle of the towers.
Before getting buried in frenzy and enjoyment, pause for a moment to reflect on the troubles that have befallen Kallbadhuset Varberg. Having provided visitors with 20 years of fun and enjoyment of cold baths,  the first cold bath house got shattered in a storm in 1884. 
Having gotten used to this lifestyle and dreading life without it, the ever industrious Swedes reconstructed one in 1886. This time, the baths had more modern features than the previous one though they had some similarities. Sadly, a 1902 Christmas storm would later destroy it as well. But through a series of improvements and focus on making guests like you happy, the Swedes have kept bath houses in Varberg vibrant. 
Why Kallbadhuset Varberg is a must visit
Kallbadhuset Varberg, is a must visit destination for whoever wants to experience a revitalizing cold bath ritual. Well, you are now aware that cold bath houses have formed part of Swedish culture since the last quarter of the 19th century. Cold baths have never lost their glory and so far have become deep tradition.
The young generation continues to discover the uplifting of a cool dip followed by a relaxed sauna session. The cold-water bath at Kallbadhuset Varberg, is not only refreshing but has for a long time proved to have significant health benefits. No wonder it has the popular tag of being a health resort in the past. If it is not about increasing your blood circulation, it uplifts your moods and improves your memory.
The tradition of this cold bath lets you strip naked to have the benefits and feeling it's intended for. When coming to Kallbadhuset Varberg, just be ready to temporarily suspend your timidity and high sense of privacy. After all to enjoy the most, just put on the character of an innocent kid. But you don't have to get wary because Kallbadhuset Varberg has separate partitions for men and the other for women. You don't have to carry your swimwear and bathing is encouraged first.
Head to the cafe after your cold bath in Kallbadhuset Varberg
After having a cold bath, head straight to the café and treat yourself to a prawn toast taste. If you like, try a recipe waffle with whipped cream and jam. You could also sip your coffee as you geta panoramic view of Kallbadhuset Varberg's architecture. Besides, there are also large sandwiches and pastries baked by an artisan bakery in Varberg.
Serene surfing session at Kallbadhuset Varberg
The endless sandy beaches and strong winds come with very cool sea waves. For a surfer this can't be an opportunity to squander. Just put on your gears and jump right into the undulating waves. Varberg has been a popular surfing destination for the longest time now. Should you be someone obsessed with surfing, don't forget to carry along your surfing boat. After a cool surfing session, go enjoy a spa treatment session at any of the numerous spa resorts around. Varberg Stads Hotel and Spa will offer you a sweeping view across the sea.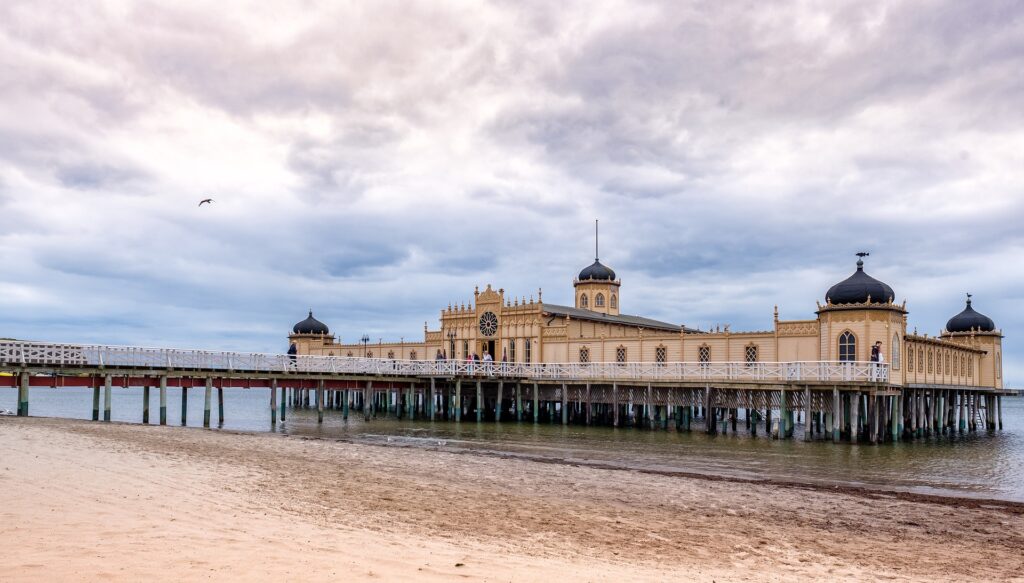 Go sightseeing at the historical places in this area
There are plenty of other attraction points in Varberg apart from just enjoying a cold bath at Kallbadhuset Varberg. Even if not your initial main attraction, don't restrain yourself from visiting the historic Varberg Fortress . You'll also get a glimpse at the Halland Museum of cultural history. The greatest highlight is the fascinating Bocksten Man, an exceptional well-kept mediaeval man discovered in a local bog in 1936.